Right now is a very exciting time in American history. We are currently in the third Democratic Trifecta over the last 40 years, we just saw congress pass the largest stimulus the United States has seen over the last 70 years, and we have several very exciting bills which have passed the House which need to go through the Senate.
This is where we are hitting a road block because the filibuster of course is still in effect, and everything the Democrats want to pass has a 100% guarantee of being filibustered by Mitch McConnell as long as the filibuster remains.
The filibuster right now is the biggest issue in the United States. It doesn't matter what issue you care about… racial justice, voting rights, gender equality, LGBT rights, environmental justice, gun laws, economic issues of any type, judicial appointments… it doesn't matter. The only way to get meaningful long lasting reform which will survive even if Democrats lose the Presidency is to make sure that we can pass legislation through the Senate. This is why the filibuster is the biggest issue in American politics, and it is going to remain the biggest issue in American politics until either the Democrats control 60 seats in the Senate or we eliminate it completely.
Scenario 1: We do not blow up the filibuster
This means we are going to enter speculation time. If we do not pass the filibuster we will not get any more laws passed this session, and probably for the foreseeable future. This is all but guaranteed.
This is going to impact elections severely. Republican controlled state legislatures are currently working on passing voter suppression in many states, but most importantly in Georgia. If these laws pass and stand, Democrats are definitely going to lose a Senate seat in Georgia, and Democrats will lose the Senate seat in Arizona. This is because these states will continue to pass voter disenfranchisement laws through their Republican trifectas, and our existing voting rights laws do not fully protect against modern voter discrimination.
If Democrats fail to pick up a seat in either Wisconsin or Pennsylvania with that guarantee (assuming we don't kill the filibuster and HR1 fails) then we will have a Republican Senate. This is as guaranteed as anything I can project.
A favorable 2022 Senate map for the Democrats looks like this: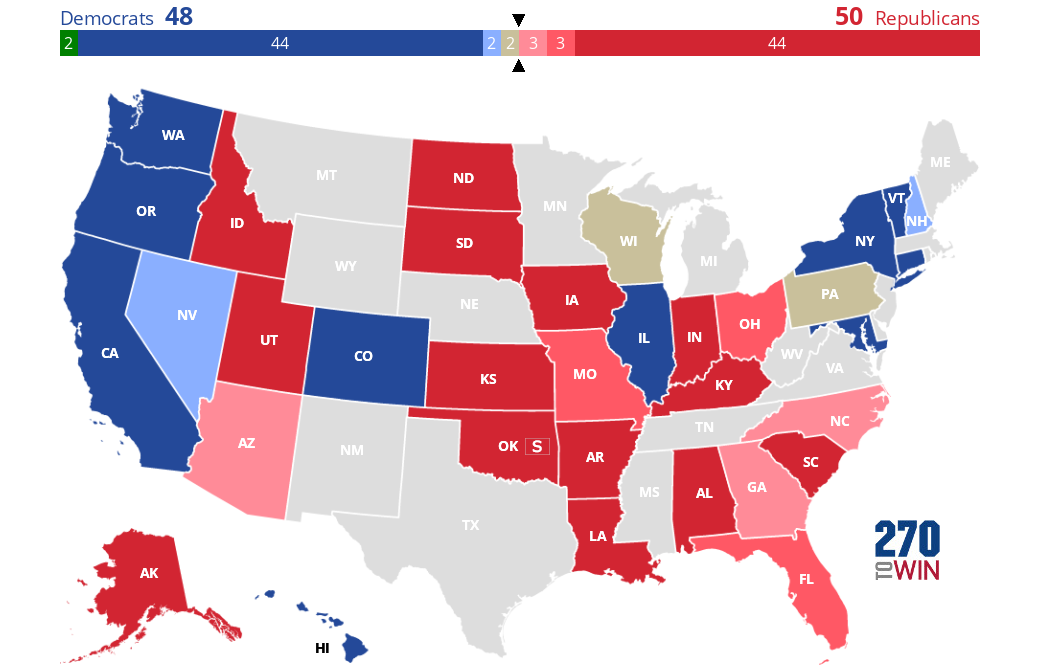 Scenario 2: We blow up the filibuster
The other path forward involves Democrats choosing the nuclear option. If we eliminate the filibuster we can pressure Sinema and Manchin to vote for HR1. They talk a lot of shit (pardon my technical terms) but at the end of the day they do vote with the Democratic Party more often then not. They do not want  to go down in history as the Democrats who voted against the largest expansion of voting rights in over half a century. That is not going to happen. If we do the nuclear option on the filibuster then HR1 is going to be the law of the land. This is a fact.
If we pass HR1 then next year the Federal government will have all the tools it needs to enforce vote by mail in every congressional election in every state. The modern voter disenfranchisement which is being pushed forward right now in Georgia among other states is going to be in violation of Federal Law which is currently pending in the Senate, pending nothing less than the nuclear option.
If we blow up the filibuster, African Americans will be able to vote in Georgia and North Carolina. Hispanic Americans will be able to vote in Arizona. Missouri has Cori Bush who has the ability to motivate voters to vote in Missouri, bringing Missouri into play. With mail in voting in Pennsylvania, the large African American voting bloc in Greater Philadelphia will have increased turnout. Florida has some of the most severe voter discrimination laws in the country which are in violation of HR1. North Carolina has similar laws which have prevented eligible voters from voting for no other reason but to prevent Democratic wins in that state.
A 2022 Senate map with HR1 on the books looks like this with a pro-Republican bias: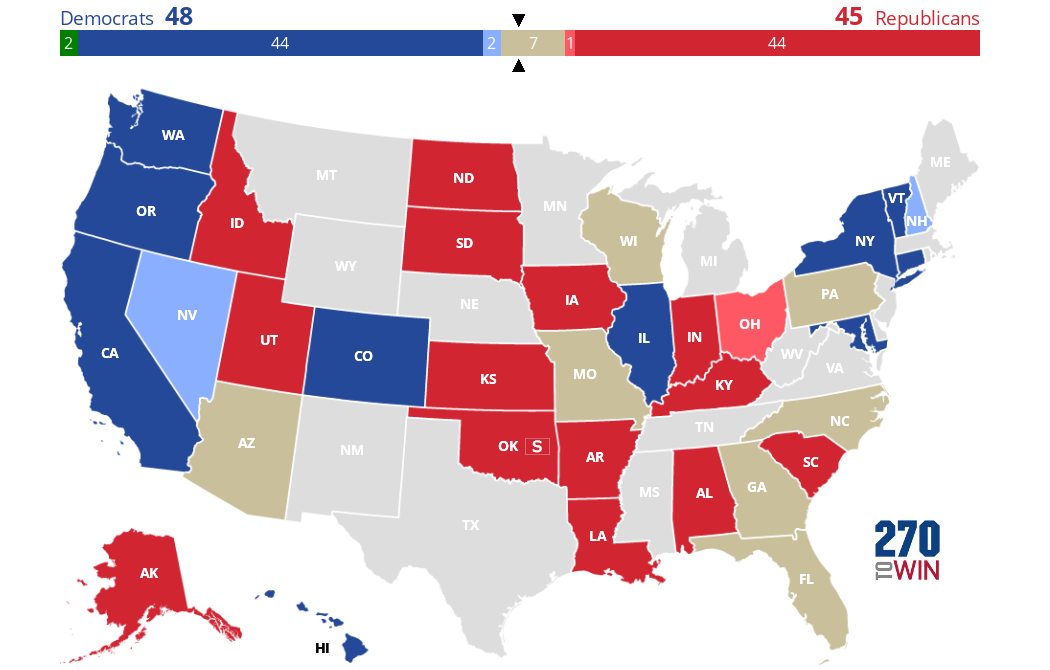 HR1 is the difference between Republicans almost certainly taking the Senate in 2022 and the Senate being a competitive map.
The only way to pass HR1 is to destroy the filibuster.
The only way to accomplish anything else in this congressional session is to abolish the filibuster.
If you believe that the Republicans will keep the filibuster in 2025 if they have a trifecta and 50 seats, than you are naive.
If we do not pass HR1, Arizona is going to pass voter disenfranchisement laws. Kristen Sinema is going to lose her seat. Joe Manchin is going to face the wrath of practically every other Democrat in congress and if he ever truly cared about anything he said about being pro-choice, and he will come on board. He has a pattern of taking the limelight as much as he can when whenever he can, but at the end of the day, he is a Democrat, and he will vote with his party.
That is 50 votes plus the Vice President. That is all we need to pass the nuclear option.